Side Circuit
You can, first of all, do nothing!Moulay Idriss is the perfect place to relax, read, listen to music ... But you can also perform many walks in the area.
Walk:
Visit the town of Moulay Idriss (2:30) or the abandoned village (3 hours); for the more adventurous, climb Jebel Zerhun (5 h A / R). But above all do not forget to visit Volubilis Roman site. (3m Moulay Idriss).
But above all do not forget to visit Volubilis the Roman site. (to 3M Moulay Idriss).
Every Saturday, the souk is a must.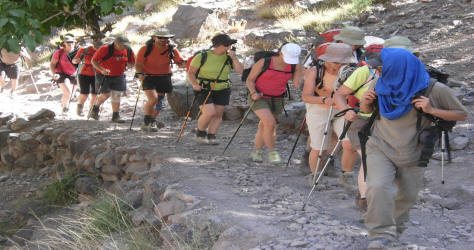 Mountainbiking :
Reassemble the Draa to the village of Sidi Ali or her and Moussauia or down to Khomane.
By Car:
On a day of visits beautiful hilltop village has snagged the reliefs. Or in the mountains of Jebel Zerhun often snowy.
---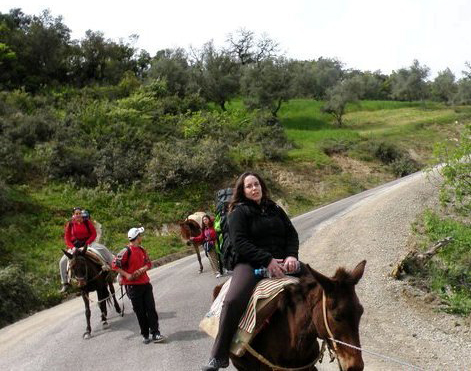 Donkey rides:
Starting on a donkey of Moulay Idriss to Volubilis through fields of olive trees and villages. There are many hiking routes in the region of Moulay Idris Zerhun organized by the white dove. To make your stay meets your expectations and your fitness you will find all the information needed to choose your ride in our guest house.
Accompanied touring :
You walk with an expert guide from the region. You put your finger secret places of the massif and enthrall you with his knowledge of the terrain.
The level of trekking :

Easy: hiking accessible to people debutantes / 3-5 hours walking a day, altitude <500 m / lighter preparations desirable.

Medium: 4-6 hours walking a day / altitude between 500 and 1000 m / be in physical form.

Good walker: 5-8 hours walking a day / elevation may be> 1000 m / fitness